Videohive Whiteboard Animated Elements Library V6 13745607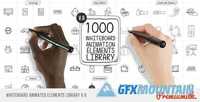 CC 2015, CC 2014, CC, CS6, CS5.5, CS5 | 3840x2160 | 400mb
Features:
CS5 CS5.5 CS6 CC Compatible Project
4K Resolution (3840×2160) – Full HD resolution (1920×1080)
100% After Effects Template
No plugins required.
Well Organised Project.
Easy Controller.
Unique Drawing Animation for each Element
Sound Effects Included.
Handmade Paper cuts.
Universaliser Controller Included (Compatible with any language)
Tutorial with voice over included.
PDF Libraries Included (Alphabetical Order)
33 Characters Occupations Male/Female
Athletic
Businessman
Chef
Clown
Contractor
Decorator
Designer
Doctor / Nurse
Geek
Hero
Honeymoon
Hotel Assistant
Officer
Oldman
Photographer
Robber
Trainer
Waiter
Worker
26 Backgrounds
Accommodation
Adventure
Airport
Backyard
Baby Room
Beach
Bus Stop
Cafe
Construction
Destination
E-Shop
Education
Financial
Graphic Design
Home Interior
Hospital
Hotel
Kitchen
Pet Shop
Play Ground
Port
Prison
Shopping
Traffic
Village
Web Development
44 Categories Included:
Accommodation
Arrows
Avatars
Baby & Children
Badges
Bubbles
Buildings
Characters Male
Characters Female
Clothing
Construction
Corporate People
Document & Software
E-Shop
Ecology
Education
Emotions
Entertainment
Environment
Financial
Food
Graphic Design
Hands with Elements
Home Interior
Infographics
iWatch
Law & Justice
Medical
Occupation Hats
Pets
Ribbons
Science
SEO
Signs & Symbols
Social Media
Sports
Summer
Technology
Transportation
Travel
Travel Destinations
Weather
Xmas
Text Placeholders
34 World Cities
Abu Dhabi
Amsterdam
Athens
Bali
Bangkok
Barcelona
Beijing
Berlin
Cairo
Copenhagen
Delhi
Denver
Dubai
Hong Kong
Istanbul
Kuala Lumpur
Kuwait
London
Los Angeles
Madrid
Mexico
Milan
Moscow
New York
Paris
Rio de Janeiro
Rome
San Francisco
Seoul
Singapore
Sydney
Tokyo
Toronto
Venice
General Controller Features:
Male Hands (Checkbox)
Female Hands (Checkbox)
Kids Hands (Checkbox)
Hands Shadow Opacity (Slider)
Icons Shadow Opacity (Slider)
Icons Shadow Length (Slider)
Icons Shadow Softness (Slider)
Icon Line Color
Icon Paper Color
Background Color
Text Color
Controller for each Element Features:
Drawing
Dragging 5 Fingers Top
Dragging 5 Fingers Bottom
Dragging 5 Fingers Left
Dragging 5 Fingers Right
Dragging 2 Fingers Top
Dragging 2 Fingers Bottom
Dragging 2 Fingers Left
Dragging 2 Fingers Right
Animated