Gold Foil Styles + EXTRAS!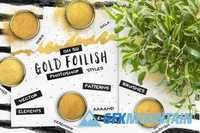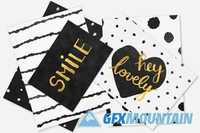 Need plenty of gold foil styles for your new fabulous project? Well, looks like you found the right pack. :) This set is packed with everything you need to create stunning gold foil graphics and designs with just one click. Oh, and I have also included lots of extras to brighten up your day. :)
• GOLD FOIL STYLES - 80 unique and super handy gold foil styles for Photoshop - JUST ONE CLICK AND YOU'RE GOLDEN! There are 8 gold foil style sets included in the pack, each containing 10 styles. No worries, there is a style guide included that will help you find the right name, shade and style.
• BONUS FOIL STYLES - 20 bonus foil styles in shades of black and white - because I just can't live without black and white & because text just looks more pretty with some black foils on. :)
• TRENDY PATTERNS - 10 bonus, seamless, high resolution patterns ( dots, stripes, lines, triangles , ... ) ready to be used in your new, fab projects. Each seamless pattern has transparent background and is a 12" x 12" (3600 x 3600 Pixels) PNG file.
• GRAPHICS - Over 150 bonus, unique, hand illustrated elements - from florals, leafs and brenches to swirls, drops, clouds and handwriting. Included files are EPS, layered TIF, a PNG sheet and a layered PSD file.
• PHOTOSHOP BRUSHES - 20 bonus, hand created photoshop brushes ranging from 2827 Px to 427 Px wide. Choose the one you love the most, add some pretty gold and create banners, dividers, patterns and more. :)