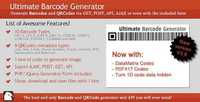 CodeCanyon - Ultimate Barcode Generator v3.0 - 593053
This project is a neat effort of creating a class that enables all kind of operations related to BarCodes, QRCodes, DataMatrix and PDF417 using simple code and API . No need to rely on external API ... You can have your own API NOW !
Today is quite easy to find a qrcode generator, or a qrcode class, or even maybe some codebar generator or class. But what about a class to handle all of them? What about a class that allows us to create a image, force download or save to a location with only three lines of code?