Slow Attack - Double Fonts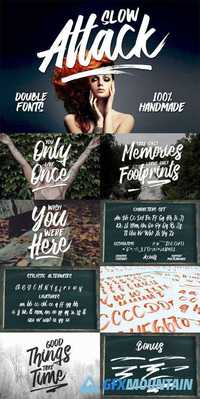 OTF | TTF
Get ready for our first release, Slow Attack Its a double fonts with script version and all-caps version, came out straight from the fast penbrush stroke. Always fit for your poster quote things, logo, branding, magazine headlines, sign, etc.
Slow Attack font, Comes with an Uppercase, Lowercase, Numbers, Puncts, and Multilingual Support, And of course Stylistic Alternates for some letters and Double letters Ligature to maintain the handwriting feels so it doesn't look like typed by keyboard.
Slow Attack 2 is an all-caps font with English language supported. To make a good pair with the Slow Attack script version. No need to find another pairings, its all here ;)
Swashes Vector Bonus a good finishing touch for your quotes or poster design with this two font, feel it.