Watercolor Made Easy Procreate Kit - 6565677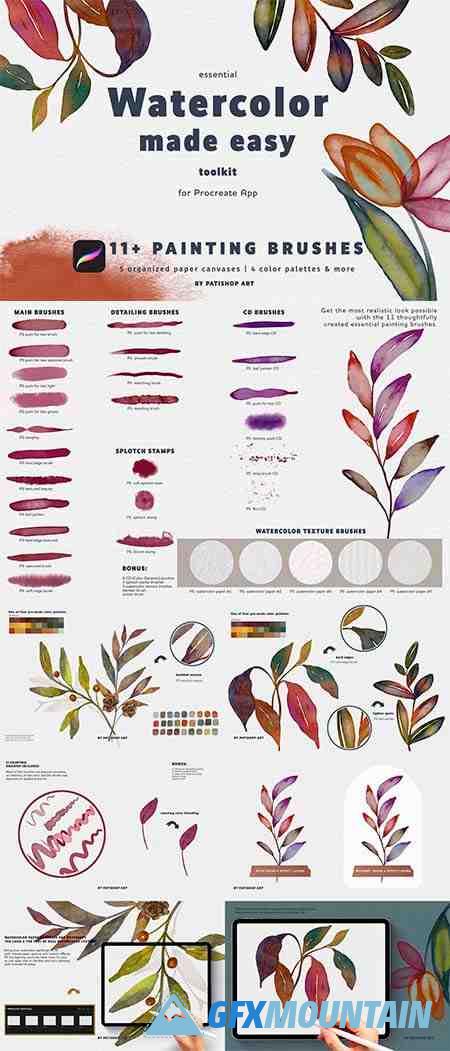 BRUSHSET PROCREATE SWATCHES
Create gorgeous realistic watercolor illustrations in Procreate effortlessly! Introducing the easy-to-use Watercolor Made Easy Toolkit for Procreate. Get the most realistic look possible with the 11 thoughtfully created essential painting brushes, color dynamic brushes, watercolor texture brushes, color palettes, and pre-made watercolor paper canvases. I've been a traditional watercolor painter for many years. Designing realistic, closets to traditional watercolor brushes for Procreate has been a goal of mine for a long time. All the brushes are sampled with high quality professional grade paints and papers, they are intuitive, pressure-sensitive, easy to use. Just open the file and start painting. I hope you get just as much joy out of painting with them as I do!
INCLUDED
11watercolor brushes (plus 6CD brushes, 5 watercolor texture brushes) | .BRUSHSET file
5 Watercolor Paper Canvases for painting 4800×3600px | 300 DPI | .PROCREATE files
4 color palettes | .SWATCHES files
PAINTING: Paint in "Watercolor ME" file on a "Paint Here Layer", if you need just add more layers.
REQUIREMENTS:
Procreate App
Apple Pencil
iPad Pro