Turbo Textures - 5 Second Textures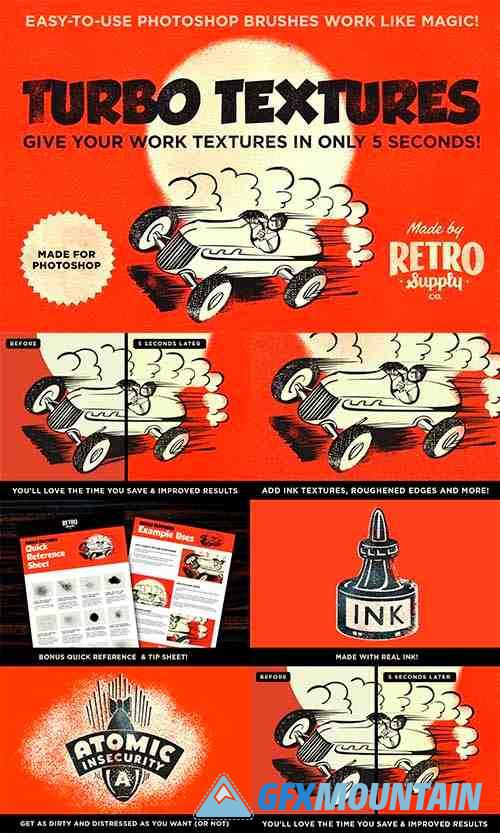 ABR, TPL
This do-all texture pack adds subtle grain, rough edges, ink textures, heavy grunge textures, wood block, fingerprints and stamp textures with ease.
This 40 piece set contains easy-to-use brushes that are always just a quick cursor sweep away. Pressure sensitive brush presets made from real ink and print samples makes adding final touches to your work a breeze.
The ultra-sharp grain textures are created from real ink and print textures. Each one scanned in at 600 DPI. Then refined for 20 hours so each brush responds to pressure to give you the precision you require when adding textures.
Plus, you'll love all the time you save putting the final touches on your work. Get projects done faster. Enjoy results that clients love and designers envy.
Here's just a few of the ways to use the brushes:
Set your blending mode to Hard Light and add 5 second ink textures
Increase your pen pressure and create sponge brush style shapes
Add a layer mask and add grainy edges to background shapes
Add a layer mask and use light pressure to create subtle screen pull flaws
Choose different colors and build up painterly forms in seconds
Shrink the brush size, increase pressure and use the brush like a sketching pencil
Turbo Textures includes:
40 Turbo Texture Professional-Grade Photoshop Texture Brush Presets (.abr File)
1 Turbo Texture easy 30-second installation guide
[BONUS No. 1] Turbo Texture Quick Reference Sheet (so you don't have to test each brush to know what it looks like.
[BONUS No. 2] Turbo Texture Tip Sheet with our 3 favorite techniques for using the brushes.