Woodcraft for Adobe Illustrator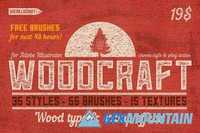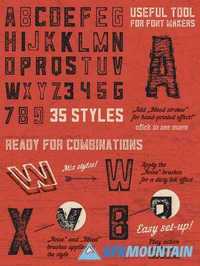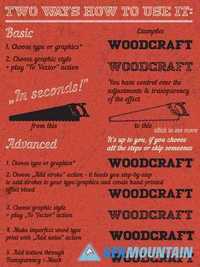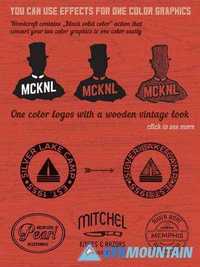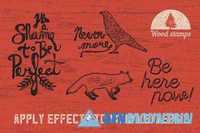 Photoshop EPS | Photoshop AI | CS5+ | All Files | RAR 215,6 MB
Woodcraft is a pack containing Styles, brushes and textures for making Wood Type and Stamps graphics in Adobe Illustrator!
It is handy tool for the lettering artists and font makers!
I was looking for some actions for Adobe Illustrator that would make a beautiful wood type in seconds. I started playing with Illustrator effects and I found that there are many possibilities how to make a vintage looking hand-crafted wood type & graphics.
Firstly, I started making actions - if you know how this process looks like in Illustrator, I bet you would find it little bit annoying. I wanted to have effects instantly not for every time setting same settings. After a few hours of work, I left it frustrated.
Well, I just started with Graphic Styles, but it wasn't same. So, I decided to rasterize effects in Illustrator to vectorize it again. And it was exactly what I was looking for.
It is the easiest way how to get these effects instantly. Just choose Graphic Styles and play the action.
ALL IN VECTOR!
You can choose from 35 unique styles that give classic & vintage feeling to your type or lettering. From subtle wood marks to rough woodcuts.
You have total control over a density of the effects, so you can easily change settings.
For comfortable use, I made a handy Woodcraft Guide in PDF.
What I like very much are the brushes. If you follow my shop, you know that I make brushes, mostly for Adobe Illustrator. I made more than 55 special "Bleed" brushes for adding a real hand-printed look to your type. Just choose an action and follow the instructions.
For final touches, I made more than 20 "Noise" scatter brushes that give dirty wood stamps effect to your type.
You can use Woodcraft for logos too. Although it works best in one solid color only, I created the action that automatically change your Black and white logo to a solid one.
Well, let's recapitulate. For only 19 $ you will get:
- 35 unique styles for Adobe Illustrator (choose graphic style and hit the "To Vector" action for final results - you have total control over it!
- 4 handy actions: "To Vector", "Add Strokes", "Add Noise" and "Black solid color logo"
- more than 55 "Bleed brushes" to add a hand-printed wood stamp or wood-cut look to your type or lettering - more than 20 "Noise" scatter brushes that give dirty ink stamp effects to your graphics
- Handy Woodcraft Guide in PDF for comfortable use
The Styles are ready for other combinations - so you can make new effects by overlaying multiple styles.