18 Black White Mobile & Desktop Lightroom Presets B&W Filter - 827424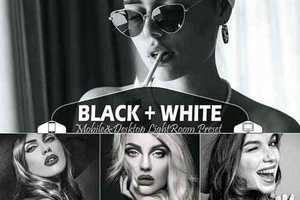 LR DNG
There is just something magical about black and white photography, isn't there? The timeless beauty of the photos, the emotion that they bring, the different lighting contrasts that come to life.
Sure, shooting in color is great, but a black and white photo can bring a new perspective and aesthetic to your photos that can't be expressed through color.
Getting the perfect black and white or monochrome look which compliments your photo can be tough so that is why we have hand-crafted this set of Lightroom presets – each one can transform an image as you will see from the examples on this page.
-----This set includes-----
-18 Unique lightroom mobile presets (.dng file)
-1 installation guide For Lightroom Mobile preset (.pdf file)
-18 Unique Lightroom Desktop Preset (.lrtemplate file)
-1 installation guide for desktop lightroom presets (.pdf file)
-----More details about these presets-----
-Works with free Lightroom mobile App
-Compatible with iPhone and Android device
-Instantly download the digital file
-Fully Compatible with Lightroom 4-7+ Both CC Versions
-Works on RAW and JPEG images
-100% adjustable and customizable Lightroom presets