Long Sleeve T-Shirt Mockup Templates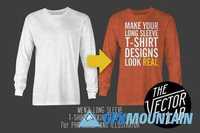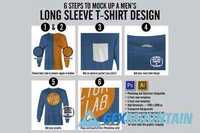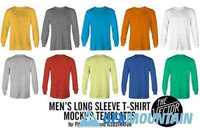 File Types: PSD, AI, All Files | Layered: Yes | Dimensions: 1650 x 2000 px | File Size: 370 MB
Make your Long Sleeve T-Shirt Designs look real.
At the bottom of the description is a link to a tutorial [VIDEO] where I show how to use my apparel templates
These are perfect if you are making a catalog or building a website to display long sleeve t-shirt designs. If you are a graphic designer, displaying your designs on these templates will bring your designs to life and help increase sales to your clients and customers.
Not just flat images- These are layered Photoshop PSD and Illustrator AI files with transparent backgrounds that allow you to change the color of the fabric, change the fabric look to heather, and crop your allover-print or oversize graphics to the shape of the shirt.
Each shirt has an INFINITE number of color and heather options. Using the clipping masks and layers will help you quickly add in your own custom design. High resolution files - 1650 x 2000 pixels (suitable for catalogs, print, and web)
Layered Adobe Photoshop PSD and Illustrator AI (version 10) files.
This collection includes multiple views so your templates don't all have the same shape and wrinkles (which helps with realism and variety when presenting your designs on a website or catalog). Includes:
5 Front-View Templates
5 Back-View Templates
Automatic graphic cropping to the shape of the shirt in Photoshop. (Paths included in Illustrator for easy clipping masks)
Optional pocket layer
Optional neck label layer
Optional heather fabric texture
Displacement Maps & instructions included so you can distort your graphics to match the wrinkles in the shirts (Photoshop only)