Procreate brushes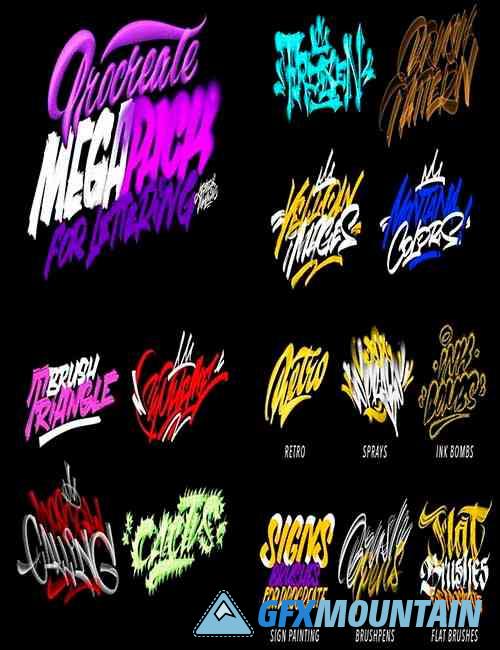 PSD BRUSHSET
I have been working on this brushes for the last 2 years, it has collected more than 200 professional lettering brushes and (first of all!) for calligraphy. To make the best possible result, I collaborated with several calligraphers. The collection presents 6 packs for a variety of styles: brush calligraphy, Blackletter, Roman Capitals, Italic, graffiti tagging with broad markers, squeezers and sprays, sign painting design, retro styles of America and Soviet Union.
BRUSHPEN PACK is my personal search of brush pen forms, it includes 76 different variations of Faber-Castell, Tombow, Pentel brushes (even ruling pens) and more others, which are impossible in reality. Pack includes 76 brushes with different form, texture and color settings. ​​​​​​​
SPRAY pack includes more then 40 versions of procreate brushes, inspired by fat cap spray for graffiti. I focused more on textures and realistic settings. This pack includes different versions of Spider, Fat Cap, some markers. When developing brushes, the experience of calligraphy and feedback of many professional calligraphers and graffiti artists really helped me.
INK BOMBS These 10 brushes are the result of a random experiment, to my great surprise. Without any additional effort, you create your digital calligraphy, get a dynamic contour of the spray and interesting rubbing in the direction of the stroke. This brushes are inspired by ruling pen, syringe and other not standard tools for calligraphy, which gave us such insane graphic effect.
FLAT BRUSHES. These brushes were created by chance, when developing brushes sign painting, but nevertheless it turned out to be a success. The brushes respond to pressure and successfully simulate the work with a flat brush, but you will also find settings for brushpen and a flat marker. This gives a wide range of features and styles that you can work with: graffiti tagging with a flat marker or brushpen, gothic, Italian italics, Roman capital and so on. Pack includes 45 brushes with 4 different form settings and 3 different color settings.
RETRO PACK. Brushes from this pack were created under the inspiration of vintage 50s lettering, American sign painting and Soviet Soviet style. Also here you will find experimental brushes with 3D effect, I think they will make life very easy for fans of lettering with the effects of volume and chiaroscuro. Pack includes 30 brushes.
SIGNS PACK. When designing these brushes, I was inspired by the work of American sign painters, especially the casual lettering style and the mock brush textures and shapes. Pack includes 31 brushes.
As a bonus, in addition to brushes, you buy a subscription for all updates, including if a new brush pack is developed, which will be sold separately from the rest, you will receive it for free.
Brushes have proven themselves not only among beginner calligraphers and letting artists, but also among professionals such as: Sergey Shapiro, Alexander Shimanov, Jordan Jelev, Pablo Fontagnier aka Hombre Suk, Nicolo Visioli, Ivan Fans Taknado.